The best way to see Pattaya is by hopping on a local taxi. Because Pattaya city is modern, it has none of the sights of ancient interest that many other Thai major tourist destinations can boast. Except for the Korean, Japanese and Chinese tourists who are ferried rapidly round the city in a couple of hours, there are very few tour guides as such in Pattaya.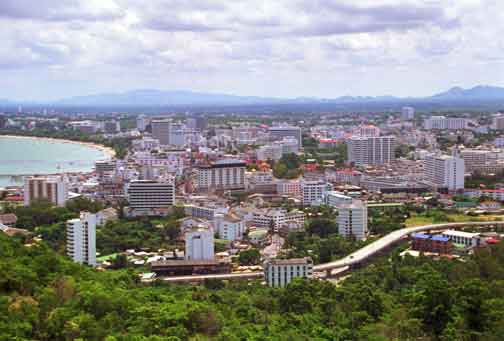 Pattaya City sits around an attractive bay
The easiest way to get your bearings and to see the centre of the city is to jump on a taxi on 2nd Road or Beach Road, both of which are one way, and go round the circuit. The taxi will take you all the way to Soi 2, opposite "Big C" where it will turn down towards the sea and then go back along Beach Road where it will turn left and up to, then along 2nd Road again. You will go past many of the best hotels, see the shopping malls, see the back-roads to the beach, and go along the length of Pattaya Beach. This city tour will cost you 10 baht and will take between 20 and 30 minutes.
Apart from the beach and the sea, the main attraction of Pattaya is shopping. Many people only spend a short time in Pattaya, and the numerous shops catering for foreign tastes bring shoppers and other people to the centre of Pattaya to get their holiday bargains to take home.
Walking around Pattaya is by far the best way to see the town, as long as you watch the potholes and multifarious obstructions above and below. During the day, the favourite walks are along the beach and along the sois (lanes) leading off Beach Road. They are full of shops and bars to cater for every taste and activity. The mobile food stalls abound in the busy sois, and most Thais in this area do not bother to cook for themselves, as the good cheap and various foods will come to them, but of course there is no hurry in Thailand.
At night Pattaya looks and is totally different. The quiet soi you walked down during the day now has been transformed into a bustling, neon-signed maze of bars, music blaring from each door, and often in competition with each other, and lots of high-heeled ladies. Many Europeans head for Sois 7 and 8, where there is a party atmosphere all year round.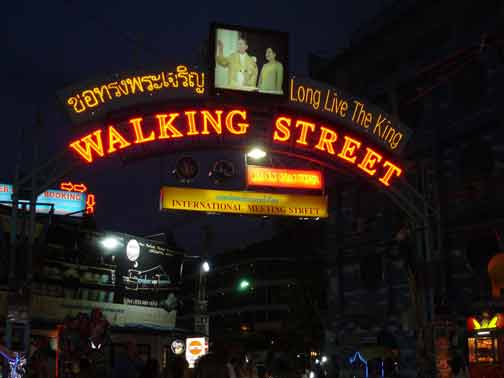 The Walking street area is central and a popular night attraction
Most people though, at least once during their stay, and often most nights, take a stroll down Walking Street, particularly between 10.00 pm and 1.00 am. Here is the heart of Pattaya nightlife for many visitors. You can watch Thai boxing whilst listening to reggae from the next door bar, or listen to live music at any number of bars for the price of a drink. You are able to get a very decent meal from the street vendors for 25 baht, or alternatively 20 metres away you can sit in a restaurant over the sea and eat oysters and lobster and drink champagne without too much damage to your credit card. Bars, music, girls, shows, discos and lots more are to be found here and in the surrounding sois.
In the early morning the walk up to Lookout Point is a lovely one, with a spectacular view as a result. You can, however, get a taxi between South Pattaya and Jomtien (10 baht), stop it at the Police Box and walk the last 200 metres, or even go to the opposite side of the roundabout to the spectacular Wat (and its other buildings) on Chinese Hill. Plenty of taxis will be around for you to get back down again.