Royal Cliff Garden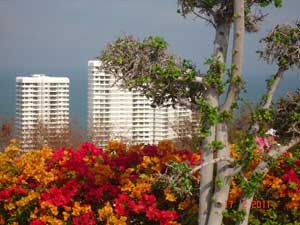 The Royal Cliff Garden Condominium, the InterContinental Pattaya Resort, the Royal Cliff Beach Resort and the Royal Cliff Hotel are located on land on the South-Western slope of Navy Hill that once belonged to the Royal Family. In the 1970s the property was sold to the owners of the Royal Cliff Hotel who sold part of the land in the 1980s to the Sophonpanich family which was known, in particular, for its connections with Bangkok Bank. The Royal Cliff Development Company was formed and construction of the Condominium was carried out between 1988 and 1991.
The Condominium is proud of its connection with one of Thailand's most illustrious families. The Condominium is managed by the City Realty Company which is also a Sophonpanich owned company. This connection ensures that the Condominium is efficiently and fairly managed in the general interests of co-owners and residents and as a strictly residential community.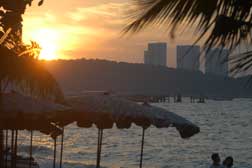 The condominium complex is located on a cape (Laem Bali Hai) at the South side of Pattaya Bay. The property of 17 rai, 84 square wah, (27,536 square mtr) includes 4 apartment towers with a total of 200 apartment units and occupies several terraces along a slope between the beach and Pattaya's only public park on Phra Tamnak hill. Many units offer a unique double view, to the west on the ocean and islands, and to the east on Phra Tamnak hill and Pattaya Bay. The Royal Cliff Garden has, as its name suggests, a large and beautifully landscaped tropical garden that covers several terraces from beach level to the road on Phra Tamnak hill. Royal Cliff Garden has almost everything you need within the premises, like 3 swimming pools, fish ponds, a waterfall and walking trails. It's also very safe for the kids. They don't need to go outside, for their and your safety there are guards around.
Royal Cliff Garden is a beautiful and quiet place with a lot of facilities. It is located not very far away from downtown Pattaya. Although only a short walk from the city center it offers an oasis of peace and tranquility.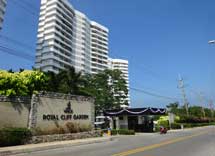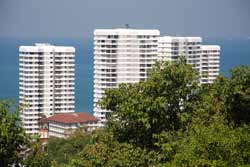 Royal Cliff Garden is situated in one of the most scenic and interesting parts of Pattaya. Pattaya City's only park is on Phra Tamnak hill next to the Royal Cliff Garden. The park has excellent walking and jogging trails that offer great city and ocean views. The various pagodas and temples on the hill are popular with Thais as well as tourists. The lighthouse and nearby boulevard are popular for relaxation and socializing around sunset. See the map to Royal Cliff Garden. The Sheraton Hotel and the Royal Cliff Beach Resort which operates the Peach Conference Centre are in the neighbourhood of the Royall Cliff Garden. Next to the Royal Cliff Resort is a cosy beach, probably Pattaya's best and most pleasant beach. Don't forget to look at the photos in the gallery.