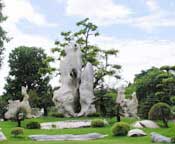 A popular attraction with international as well as local tourists, Million Years Stone Park & Pattaya Crocodile Farm is a huge arena comprising rock gardens and landscaped grounds having rare plants. It is a living museum of strange and beautiful things.

Outstanding attraction
Million Years Stone Park & Pattaya Crocodile Farm is an outstanding attraction of Pattaya, developed with more than 20 years' efforts. Nature lovers find it a place they would like to visit again and again. They can find here various animals, plants and minerals. The compound hosts interesting sights like fossilized plants over a million years in age, 200-year-old Thai style bonsai, crocodile pools and a collection of rare animals such as albino bears, elephants and horses. Animal performances, magic shows and crocodile round-ups are also a hit with the tourists.
Location
Lying over the area of approximate 40 acres, Million Years Stone Park & Pattaya Crocodile Farm just 15 minutes' ride from Pattaya.
Rock garden
Rock garden is known for its grotesque shapes rocks many of which are shaped like animals. Each of these rocks is more than 75 tons in weight. It also holds the largest artificial waterfall in Thailand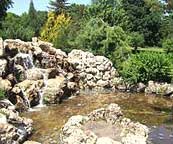 Animal world
Main attraction of the animal section is Crocodile Farm which has thousands of crocodiles, both saltwater and freshwater, living in shady natural surroundings. Giant catfish, biggest freshwater fish of the world weighing up to 500 kg, is also a big attraction for the visitors. Other creatures loved by the visitors are snakehead fish, thepha fish, albino bear, elephants, lions, tigers, bears, deer, camels, cranes, ostriches etc.

Plant world
Award-winning bonsai trees in the park are hugely loved by the visitors. Other attractions are Thai-style trained trees over 200 years old as well as petrified trees over a million years old.

Opening hours
The park is open from 9 am to 6 pm.