Saithip Butterfly Gardens, largest butterfly garden in Asia, is a major excursion from Pattaya. Enclosing a bee museum and an orchid farm, Saithip Butterfly Garden Pattaya has a large butterfly enclosure. The place also has a small lake which enhances the natural beauty. Lying over an area of 15 acres, Saithip Butterfly Garden fills the visitors with pure joy.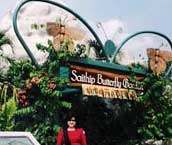 Garden of Butterflies
You would not find a larger butterfly enclosure anywhere in Asia. Having one hundred species of thousand of butterflies, Saithip Butterfly Gardens offers great joy to the lovers of creatures. Great number of butterflies flitting around the landscape would inculcate streams of creativity in a poet's heart.

Edutainment
One major feature of Saithip Butterfly Gardens is it that it offers education plus entertainment. Would there be a better place to teach one about the species of butterflies. Could anyone find a more suitable place to inculcate in a child a sense of affection for natural beauty and creatures. One would derive pure joy visiting such a beautiful natural place. There are few places like it which are so simple and yet so fascinating. On a tour to Pattaya, you should remember to include in your itinerary the excursion to Saithip Butterfly Gardens. You would collect there unforgettable memories of the place and wish to visit it again and again.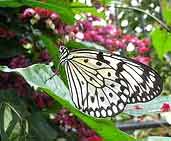 Several schools of Bangkok and Pattaya take their students to Saithip Butterfly Gardens for fun-filled education. Students take a break from their regular studies and yet, during the time they have passed in Saithip Butterfly Gardens, they learn about the nature world, which is usually unfamiliar to them.
Location
Located at about 45 minutes drive from Pattaya, one can hire taxi or car for reaching the garden. The garden is situated at Km. 10 marker off of Highway No.36.

Opening Days and Time
Saithip Butterfly Gardens opens daily except public holidays. The time is 8.30 am to 5.30 pm