Pattaya is about 1½ hours, or 120 km by road from Suvarnabhumi Airport. Pattaya is also served through U-Tapao International Airport which is 45 minutes drive from the city. By road, it is served by Sukhumvit Road and Motorway 7 from Bangkok. Intercity transport is usually through one of two bus stations, one for Bangkok and one for other destinations.

Until recently the only transport within town were private or shared songthaews and taxi via motorbike. However, a public bus service has begun in 2006, and a metered taxi service began in late 2007.

Roads
By the Bangkok-Chon Buri-Pattaya Motorway (Highway No.7) The motorway is linked with Bangkok's Outer Ring Road., (Highway No. 9) and there is also another entrance at Si Nakharin and Rama IX Junction.
By Bang Na-Trat Highway (Highway No. 34) From Bang Na, Bang Phli, across the Bang Pakong River to Chon Buri there is a Chon Buri's bypass that meets Sukhumvit Road., (Highway No. 3, passing Bang Saen Beach, Bang Phra to Pattaya.
Pattaya roads
Pattaya 1 Road ("Beach Road"): this street runs parallel to the beach
Pattaya 2 Road: this street runs approximately 400 meters parallel to Pattaya 1 Road.
Pattaya 3 Road: this is Pattaya's outer-ring road which connects North, South and Central Pattaya.
Thap Phraya Road: this street connects Pattaya 2 to Jomtien Road.
Thep Prasit Road: this street connects Thap Phraya Road to Sukhumvit Road.
Rail There is one train a day to Pattaya leaving from Hualumphong Station in Bangkok.

Monorails
The city plan to construction 3 lines of monorail system, by a budget of 4,000 million baht.

Air
There is no public airport in Pattaya city. The nearest airport to Pattaya city is U-Tapao.

Bus
Buses to Pattaya leave very frequently from Bangkok's Northern Bus Terminal (Morchit) and the Eastern Bus Terminal (Ekhamai). There are buses from Pattaya which go to every nearby provincial town. There are also some buses available to major towns in the north-east. From 2009 there is a bus going between Bangkok international airport, known as Suvarnabhumi Airport and Pattaya. (http://www.airportpattayabus.com/)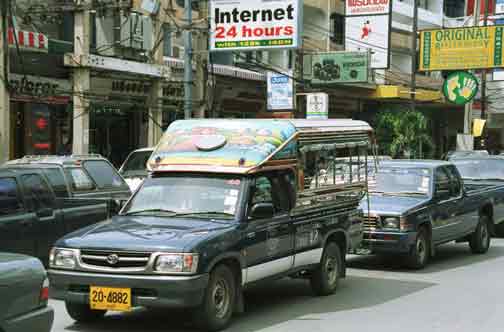 Songthaew
(public passenger pick-up vehicle) Popularly nick-named 'Baht-buses' in Pattaya, songthaews are the most popular mode of public transportation in Pattaya. The price on the regular routes in Pattaya and Jomtien Beach is five baht, and from Pattaya to Jomtien Beach, ten baht. However, to ask a driver for service to a particular local destination could cost over one hundred baht.

Motorbike-taxi
These are found mainly in the town areas and are used mainly for very short distances.