SriRacha Tiger Zoo, as the name suggests, is a zoological garden housing more than 200 tigers. What makes it special is the fact that SriRacha Tiger Zoo is the largest tiger zoo in the entire world. As soon as the tourists step in, they feel as they have stepped into the tigerland. Stretching over an 100 acre piece of land, it keeps great number of tigers, crocodiles as well as other animals.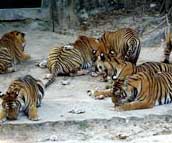 Tigers
Main feature of the zoo are more than 200 Bengal tigers which can be seen at various locations. The zoo has successfully maintained a tiger breeding program. Many tigers in the zoo were born there. Tigers living in the natural environment have their own grace and charm. These majestic animals, when put behind bars in the closed zoos, lose their charm. To watch them in the open zoo is a different kind of experience.

Some of these tigers are trained for performing tricks like walking on their hind legs and jumping through a circle of fire. For kids, it could be very entertaining.

Activities
You could see a large magnificent looking tiger in close quarters. It would not bother why it is the centre of your interest. After some time it would get up, casually look at you and walk away. You could hold a tiger cub in your arms, feed it with milk and take an intriguing picture which would thrill you for ever. Getting into the role of the tiger cub's nanny would thrill you. You could just site in the grass and enjoy verdant landscape all around. It is a tigers' playground and you would see tigers busy in their own world there.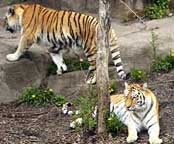 Other Beasts
Not only does Sriracha Tiger Zoo keeps tigers but it is the residence of several other animals too. It houses camels, deer, wallabies, rabbits, elephants, ostriches etc.

Transport
Located at 30 minutes drive from Pattaya, Sri Racha Tiger Zoo is easily accessible. Best option to reach there comfortably is to hire a taxi or car. They would drop you right at the entrance of the Tiger Zoo.

Crocodile Eggs Breaking Festival
This is a unique event organized in the zoo and you should not miss it if you happen to be in the zoo between May to August. Wrestling Show by lady performers is a popular attraction here. In Amazing Circus, varieties of animals are shown.

Opening Days and Time
Sriracha Tiger Zoo is open daily except public holidays from 8 am to 6 pm.