Pattaya, located off the Gulf of Thailand, is approximately 145 km south of the city of Bangkok, surrounded by Bang Lamung District.
The city of Pattaya is a special municipal area which covers the whole tambon Nong Prue and Na Kluea and parts of Huai Yai and Nong Pla Lai. Bang Lamung township which forms the northern border of Pattaya covers parts of the tambon Bang Lamung, Nong Pla Lai and Takhian Tia. Bang Sali is on the southern border of Pattaya.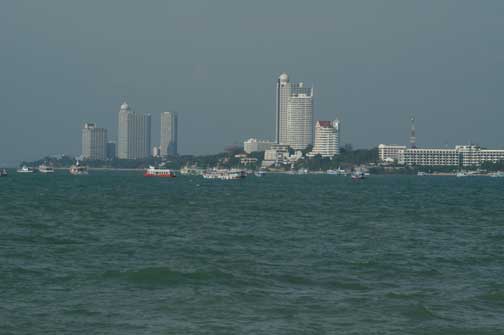 Greater Pattaya" occupies most of the coastline of Banglamung (one of the eleven districts that comprise Chonburi Province). It is divided into a larger northern section which spans the areas to the east of Naklua Beach (the most northern beach) and Pattaya Beach (the main beach) plus the Buddha Hill headland (immediately south of Pattaya Beach), and a smaller southern section covering the area to the east of Jomtien Beach (which lies directly south of Buddha Hill) including Dongtan Beach. Jomtien's beaches are much broader and generally in better shape, and the atmosphere locally is more sedate and family-oriented, than at Pattaya Beach.