For more information on specific topics click the links below:
March | April | May | July | August | October/November | December
Pattaya Music Festival
Music lovers all over Thailand assemble in Pattaya for Pattaya Music Festival and dance on the white sands of the sprawling beaches of Pattatya. Young and old dance to the beats of the rock bands. Jazz and pop are part of the music festival. Held generally in the month of March every year, Pattaya Music Festival is organized in evening. Tourists take part actively in hip-hop dances of the crowd. Apart from music, other events like procession in the streets of Pattaya are also held.p
Chonburi Festival
in mid-April is an annual activity organised by the people of Chonburi since 1932. The festival combines the festivals of Puttha Sihing, Songkran and the Red Cross Fair together into one. Its activities include a procession for venerating the Pra Puttha Sihing Buddha image, water pouring for the elders, folk games, Khon or classical masked-dances from the Department of Fine Arts, cultural performance, exhibitions and stalls. The festival aims to conserve and promote local customs as well as to instill a sense of value for the cultural heritage. Well worth a visit if you are in the area and Chonburi isn't that far of a drive from Pattaya.
Pattaya festival
puts on its most festive face for this annual event, held in April at the height of the summer season. The festival involved an extensive calendar of sporting events and contests such as a Grand Prix and go-kart racing, sailing regattas, windsurfing, fishing and beauty competitions as well as stalls selling local food and crafts, and a spectacular display of fireworks on the beach.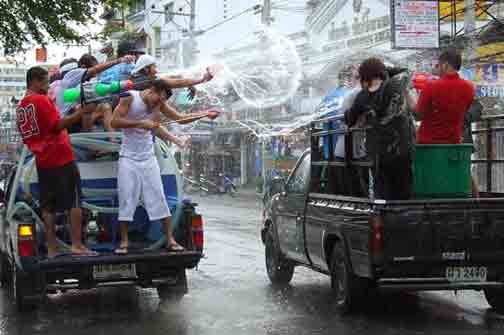 Songkran
is a wet and wild water festival held in mid-April. Songkran was traditionally celebrated by bathing Buddha images and the showing respect to monks and elders at the Lunar New Year. It has since evolved into a frenetic national water fight for anyone who decides to venture outdoors. This has to be one of the friendliest, though wet, festivals anywhere and a great way to make new friends.
Tip
Don't leave cameras or cell phones unprotected…nothing is spared during Songkran if you happen to get a dousing.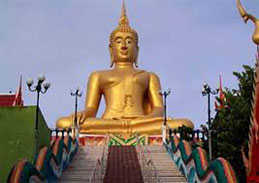 Buddha's Birthday
is the 15th of May. Local Wats (Buddhist Temples) celebrate by holding candlelit processions. A tourist may take part in these parades and it can prove great fun.
Pattaya Marathon
People of Pattaya love to take part in Pattaya marathon, generally held in July. The marathon is tough as it runs along hill terrains thus making it unsuitable for the weak hearted. One has to run along the scenic beach which adds to the excitement. Half-marathon and Quarter Marathon are other marathon events in Pattaya. International runners as well as locals participate in these events. that encourages participation from international standard runners and locals.
Queen's Birthday
is the 12th of August and also Thailand' s Mother's Day. As with all royal anniversaries this celebration guarantees a display of fireworks and lights.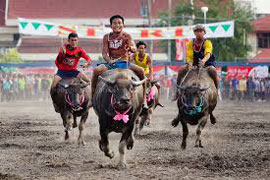 Buffalo Racing
Festival is an age-old tradition in the Province of Chonburi held annually on the full moon in October. Farmers proudly bring in their best buffalos, draped with multicolored satin cloths and gather on the lawns of the Chonburi Provincial Hall. The buffalos compete in races, and best-decorated as well as other contests. Young women also compete in a beauty contest where girls vie for the title of "Nong Nang Ban Na" Farm Maiden.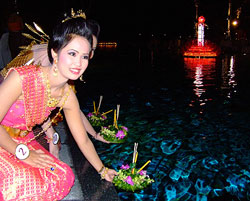 Loy Kratong
is held on the full moon in either late October or early November. This is one of the most picturesque and endearing festivals of Thailand. All over the country, little floats (kratong) are made from banana trunks, flowers and candles and set afloat on the water. This symbolizes the casting away of troubles and a call for a happy future. As the moon rises in the evening people converge around bodies of water throughout the country to release their kratongs.
King's Birthday
is the 5th of December and a national holiday. The King is much revered and the majority of the country holds candles while singing the King's anthem that evening. His birthday is celebrated by all Thais, while homes and buildings are adorned with lights and fireworks light up the night's sky.
Bang Saen Speed Festival
is the biggest event in the motor sports history of Thailand. Held at the end of every year, Bangsaen Speed Festival is an international street circuit. The event offers the best of drivers, teams and racing cars. The event has class racing cars like Formula BMW Asia and Formula Renault. Motorbike sports are also held. Feel the sense of speed in Bang Saen Speed Festival.