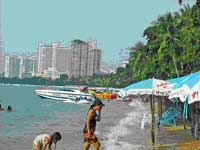 Pattaya Beach at sunset.
Pattaya Beach is situated alongside the city centre. The section of beach from Central Road (Pattaya Klang) south to the harbor is adjacent to the core of Pattaya's abundant nightlife area. Most sections of the beach are covered by rented deckchairs run by local beverage vendors during daylight hours.
Jomtien Beach
Jomtien Beach is divided from the main part of Pattaya by Pratumnak Hill, just south of the city. Jomtien is essentially a residential area with beachside hotels, bungalow complexes, condominiums and restaurants. A wide array of watersport activities can be found, including jet skis, parasailing and small sail boat (Hobie Cat) rental.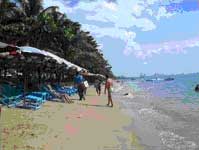 Jomtien's most visible landmark is the 56-story Pattaya Park tower, part of the Pattaya Park entertainment complex which also features a water park, roller coaster, monorail. This may soon be overshadowed by the proposed 91-floor Ocean One Tower Tower. With an overall height of 367 meters, it would be the tallest building in Thailand and one of the tallest residential buildings in the world. The Jomtien district is already home to one of the largest resorts in Asia, the 4000+ room Ambassador City Jomtien.

Off Pattaya there are some small islands and island groups. They are the primary scuba diving destinations in and around Pattaya, especially the "Far Islands":
Mu Ko Lan
Mu Ko Lan The "Near Islands", Ko Lan (main island), Ko Sak and Ko Krok located 7.5 Km from the western shores of Pattaya.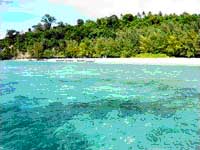 Mu Ko Phai
Mu Ko Phai The "Far Islands", Ko Phai (main island), Ko Man Wichai, Ko Hu Chang and Ko Klung Badan, located offshore further west of the "Near Islands".
Ko Rin, located offshore to the southwest, south of Mu Ko Phai.
Ko Lan
Ko Lan , or "Coral Island", is a small island situated 7.5 km west of Pattaya. Ko Lan is accessible by speedboat and ferry. The ferry departs hourly, and is a 45-minute ride costing just 20 baht ($.60) each way. Speedboats are more expensive, but can reach the island in less than 15 minutes.